I think everyone loves a .22 sixgun. The Ruger Single-Six and Colt Scout have been enormously popular. Those are both 7/8th scale to the Peacemaker though. They were shrunk just a touch, which is sensible enough from purely an engineering standpoint.
There is some appeal in having a full size SAA in .22 to compliment a fella's stable of centerfire sixguns. But only a few makers offered such a beasty over the years.
Some how or another, I ended putting together a representative collection of full size SAA's. Here's a rundown of each model (in progress).
Hy Hunter / Hawes Frontier Six-Shooter
Having been a Great Western Arms distributor, Hy Hunter went to West Germany in 1959 to have his own sixgun made by JP Sauer. These revolvers would become better known as 'Hawes', which is the name Hunter's company would take in the latter 60's. He sold enormous amounts of them, and they remain quite easy to find on the used market.
The Hunter / Hawes centerfires were all steel. The .22s were alloy with steel cylinder and barrel sleeves. The full size JP Sauer pattern sixguns were robust and well built but they are usually not lookers. No factory time was spent polishing or getting edge to edge fit on components.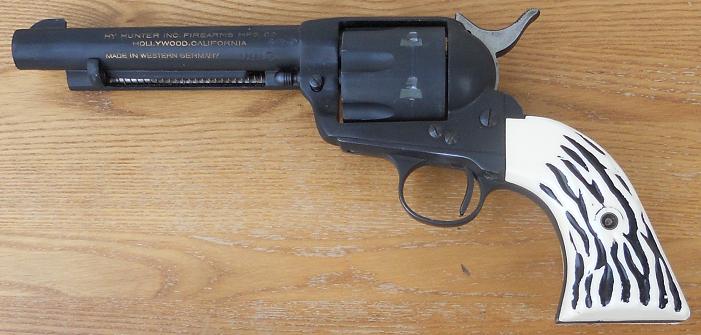 INTER CONTINENTAL ARMS / EMF DAKOTA
The Dakota was an SAA pattern revolver associated with EMF for over 3 decades now (Though first offered by Inter Continental Arms). It was contract produced by Italian makers Jager, Hammerli, Armi San Marco, and Uberti.
Jager built the most Dakotas in .22. These are heavy, robust revolvers that did not substitute light alloys for steel. As one of the first foriegn Colt knock-offs, we might remember the Dakota line for being more cheaply finished and constructed than they actually are. I haven't actually seen one that wasn't vibrantly blued and well fitted.
This Dakota was made by Jager in 1967.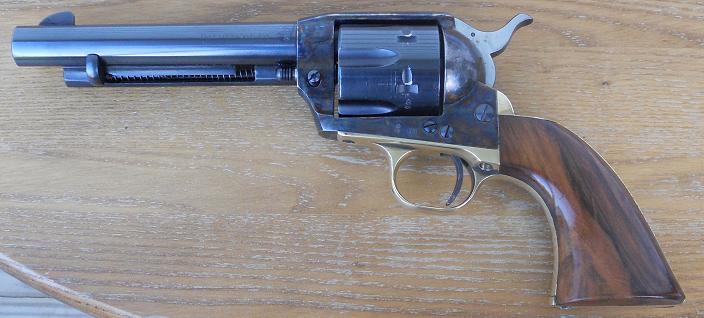 IAR / EMF 1873 Frontier
IAR was a boutique importer of Italian replica's. They had a niche line-up of offerings for a time. In the mid 1990's they sold a .22 sixgun built on Armi San Marco's SAA replica platform. This was the same platform used for EMF's Hartford line. The IAR model has a subtle EMF rollmark as well. It was probably imported with some cooperation from EMF.
The IAR Frontier was exclusively 4 3/4 inch barreled with blue and case-hardened finish. Grip assembly was black nickled. A faux inspectors cartouche appeared on the butt.
These were reviewed with positive remarks in the American Rifleman in November 1996. I don't expect they were sold in great numbers. They'd be scarce, but nor are they terrificly sought after. Very neat however.